Latest News
Students fly the flag for diversity at Thomas Carr College
25 August 2022
Students at Thomas Carr College have commemorated diversity and multiculturalism by creating and implementing an international flag titled "We're one we're many flags". The flag now takes pride alongside the Australian Flag and Indigenous Flags outside the main administration area of the College, welcoming staff, students, and visitors as they enter the main buildings.

Earlier this year, students were invited by the Department of Education and Trade (DET) International Education division to join cross sectoral forums with other students from Catholic, Government and Independent schools, and focused on giving international students a voice within their school communities.

The group, consisting of students Oliver Pond, Namisga Sireskuma, Mrinal Garg, Alex Wang, Hassan Chaudhry and Asheriya Charan worked on the project throughout this year, with support from the Department. It aimed at improving intercultural understanding of all students in the school. The group also received online support to develop their initiatives throughout the semester.

The flag will celebrate the national days of other countries and cultures, and on these days, representative students will lower the Thomas Carr College flag and raise the "We're one we're many flags." In addition to this, video clips about the country's lifestyle and culture will be telecasted around the school campus on its television screens.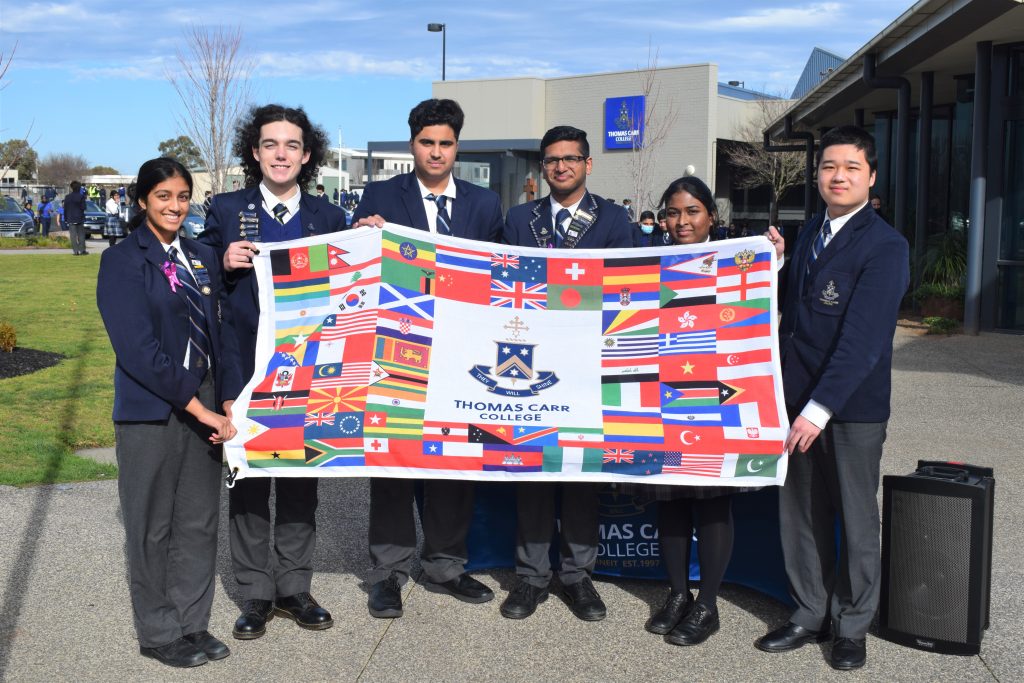 Mr Tom Bridges, Director of International Programs at Thomas Carr College says "The flag initiative brings attention to the pride felt by students for their cultural backgrounds. By celebrating the rich diversity of our community, students learn more about themselves by learning about others, setting themselves up as active and informed global citizens."

Mr Craig Holmes, Principal at Thomas Carr College adds "Thomas Carr College is very proud of the cultural diversity of our students and supports the initiative of our students to celebrate this richness of culture."
Mr Tom Bridges, Director of International Programs