Our Parish Priests – Partners in Faith and Mission Development
The College is pleased to have a strong relationship between parish and school, with our priests as partners in the faith development of students.
The connection between our priests in the parishes of St Peter Apostle Hoppers Crossing, St James The Apostle Hoppers Crossing North, St Andrews Werribee and Thomas Carr College enables our young people to participate in the celebration of the Eucharist and the sacraments: the 'source and summit' of our Christian lives. Life-giving relationships between parishes and their schools lie at the heart of an educational experience at Thomas Carr College that is truly Catholic.
Our College Chaplains appointed by the Archbishop are:-
Fr Jude M. Pirotta MSSP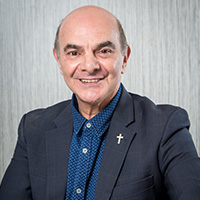 Fr Jude M. Pirotta mssp was born in Yallourn, rural Victoria in 1956, the eighth child of a family of eleven. He studied at St Vincent's Primary School, Morwell, and St Paul's Secondary Catholic College, Traralgon.
He joined the Paulist Missionaries at the age of 18, completed his training for the priesthood at Catholic Theological College, Clayton, and was ordained on 31 March 1984.
He has served as an Assistant Priest at the Parishes of St Bernadette's, North Sunshine and St Michael's, Traralgon, where he was heavily involved in youth ministry. He was also administrator at the Paulist Retreat Centre in Wantirna, and between 1998 and 2004 was Parish Priest of Our Lady of Victories, Horsley Park NSW.
Fr Jude did Clinical Pastoral Education at the Austin Hospital, Heidelberg for 12 months then he began supervisory training at Instep, Mulgrave. In 2005 Fr Jude began his ministry at St James the Apostle Parish, Hoppers Crossing North.
He is a one-eyed Collingwood supporter, enjoys movies, horse riding and swimming.
Fr Vincent John CMI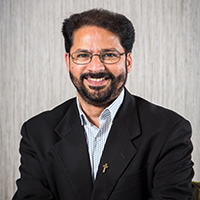 Fr Vincent John was born in Kerala, India, from a practicing Catholic family as the sixth child of seven children. He belongs to the Carmelite of Mary Immaculate (CMI) Congregation and was ordained to the priesthood in India on 26 December 2000.
Fr Vincent came to the Archdiocese of Melbourne in February 2008 and since then, has served as an Assistant Parish Priest of St Francis De Sales, Oak Park, St Francis Xavier, Frankston, St Kevin's, Hampton Park, Holy Redeemer, Surrey Hills and as Parish Priest of St Agnes' in Highett.
Fr Vincent is currently serving at St Peter Apostle Mission Parish, Hoppers Crossing.
Fr Albert Yogarajah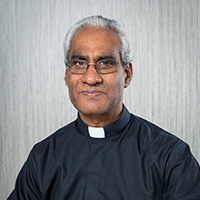 Fr Albert Yogarajah was born in Jaffna, Sri Lanka as the seventh and last child to devoted Catholic parents on 16 November 1955. After having his priestly education in Kandy, Sri Lanka, he was ordained a Priest on 2 August 1982. After ministering in the war-torn Jaffna Diocese for seven years, he went to London and was blessed to work in a parish under Cardinal Basil Hume.
Fr Albert came to Australia in June 1990 and since then has been ministering in various parishes in the Melbourne Archdiocese. He was Assistant Priest at St Mary's Parish, Thornbury, St. John's Parish, Heidelberg and at St Francis of Assisi Parish, Mill Park. In 2001 he became Administrator of St. Andrew's Parish, South Clayton, and after a few months became Parish Priest, ministering there for 10 years. In 2010, he was asked by the Archbishop to become the Parish Priest of St Kevin's, Hampton Park. He is currently the Parish Priest of St. Andrew's Parish, Werribee.
In 2020, Fr Albert was appointed as the Episcopal Vicar for the Western Region.