Faith and Mission: At the heart of Thomas Carr College
Teaching is our ministry; Jesus is our model. People are our passion, transformed lives are our product and Heaven is our goal. This is the essence of Catholic Education.
Liturgy
At Thomas Carr College, we seek to create and build a faith community where all members are invited into a relationship with the God of Jesus Christ. Grounded in the scriptures and in the teachings and traditions of our Catholic faith, our rich prayer and liturgies play a central role in the formation of our lived Catholic identity by inviting us to explore the sacred in our lives.
Homerooms pray together each morning, often led by students themselves. Over the academic year, we have the opportunity to commemorate important feasts through the celebration of a whole College Eucharist. These are well led by our Liturgy and College Captains, and employ symbols, music and prayers that are accessible to all.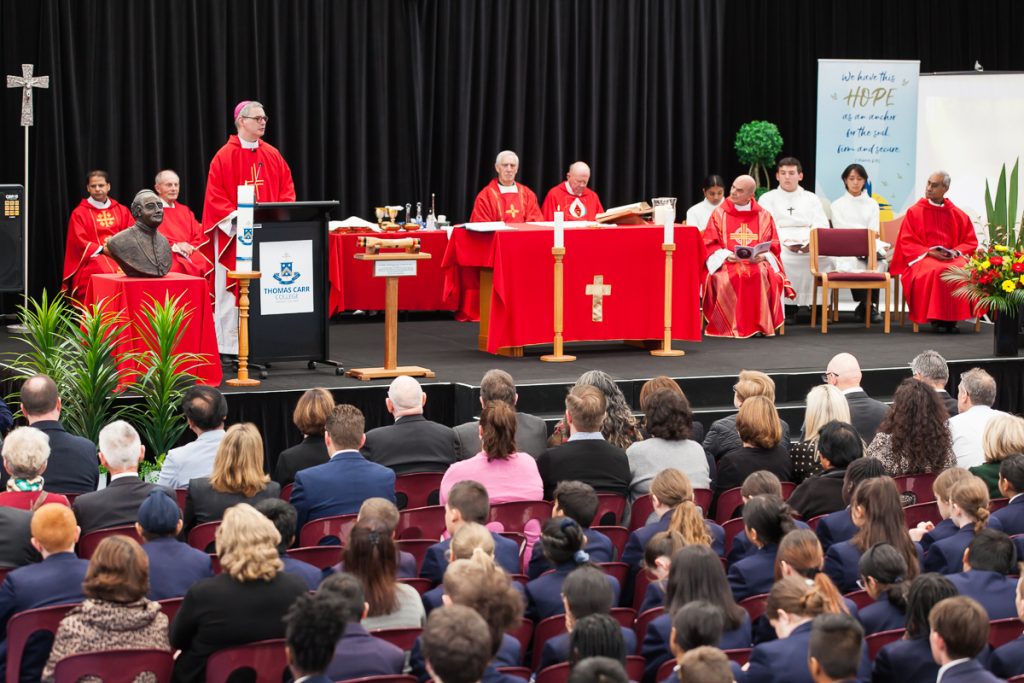 Naming of Terms
Just as a calendar has seasons, months, weeks and days that include feasts, holidays and celebrations, so too does the Church's Liturgical Calendar. To help focus our College community on Catholic belief and tradition, we have named each of our school terms on a central feast or season of the Liturgical Calendar. This brings alive the faith and mission of our great tradition.
Term 1 – Lenten Term
The 'Lenten Term' where we prepare the way leading up to Easter
Term 2 – Pentecost Term
The 'Pentecost Term' where we are invited to be open to the receiving the Holy Spirit in our lives
Term 3 – Assumption Term
The 'Assumption Term' where we acknowledge Mary the Mother of our church and where we affirm the role of women within our Catholic Tradition
Term 4 – Advent Term
The 'Advent Term' where we are encouraged to wait in joyful hope for the coming of our Lord, Jesus the Christ.