Latest News
Nude Food Lunch Tuesdays
14 October 2022
Congratulations to Mahesha Fonseka for being the first lucky pick winner of the Nude Food Lunch $5 canteen voucher on Tuesday 11 October 2022.
Every Tuesday, the students are encouraged to bring Nude Food Lunches which are better for the environment, cheaper, and healthier. The Environment Action Team (EAT) goes around and catches those doing it right and shall be issued a Nude Food raffle ticket, a chance to win $5 canteen voucher.
Nude Food Lunch is food brought to school without excess packaging. It is 'zero-waste' lunchbox that uses reusable containers and the following are avoided; pre-packaged lunch, cling wrap, zip lock, aluminum foil, plastic bag and throw-away containers and cutlery.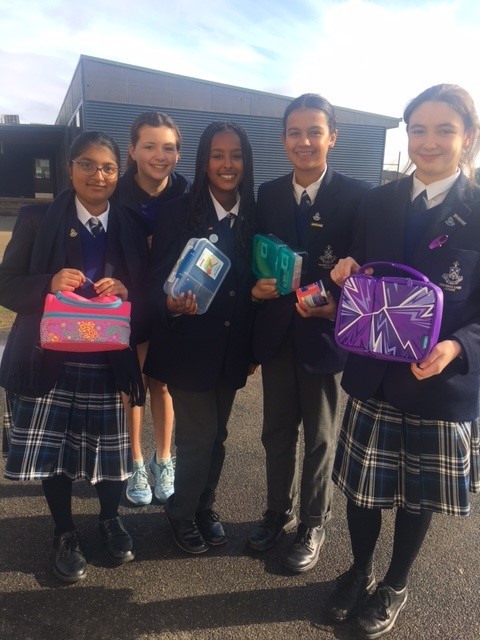 TYPES of lunch boxes: Bento with compartments, cooler bags, and lunch boxes with separate containers.
Ideas for what to pack: sandwiches, fried noodles, fried rice, chopped fruit and veggies, chicken or fish nuggets, small whole orange/banana /apple, berries/mandarin/grapes, cheese cubes, dip, yogurt in small tubs — 2/3 Tablespoons, Crackers/Cruskits/Saladas, home-made muffins, cakes, and muesli bar slices, pizza, salad – carrot/cucumber /capsicum sticks/snow peas/small tomatoes, popcorn — air popped, dried fruit, sultanas, sushi, hardboiled egg, etc.
Thanks to the Environment Action Team (EAT) for launching the Nude Food Tuesdays, in the hope that we reduce our waste at school. This is in response to Pope Francis' Laudato Si, calling us to take care of our common home.
To our parents, carers, students, and staff, prepare nude food lunches every Tuesday or better still Nude Food Every Day.
– Shirley Dagmang: RE Teacher and EAT Leader