Latest News
Good Samaritan Campus Family Open Day
04 August 2022
The College is excited to announce the Thomas Carr Country Campus Family Day.
It will follow a Good Samaritan Campus Mass and we are looking forward to having you and your family join us. This is a wonderful opportunity to meet the community members of the Cororooke community and to visit the College's Country Campus in Coragulac.
Details:
Date: Sunday 11 September 2022
Location: 729 Corangamite Lake Road, Coragulac
Time of Departure from the College: 9 am
Time of Return to the College: 4 pm (approximate)
Method of Transport: Hired bus provided (must
book / for current families only) or own transport
Departing / returning to: Thomas Carr College, 35 Thomas Carr Drive, Tarneit
Meal: Lunch available or BYO Picnic.
For lunch, there will be a sausage sizzle available for a gold coin donation with proceeds donated to the Coragulac Kindergarten. There will also be a food van selling hot fish & chips and pulled pork rolls, a coffee van selling hot drinks, and a cake stall run by St Brendan's Parish. Families may also choose to bring a picnic lunch.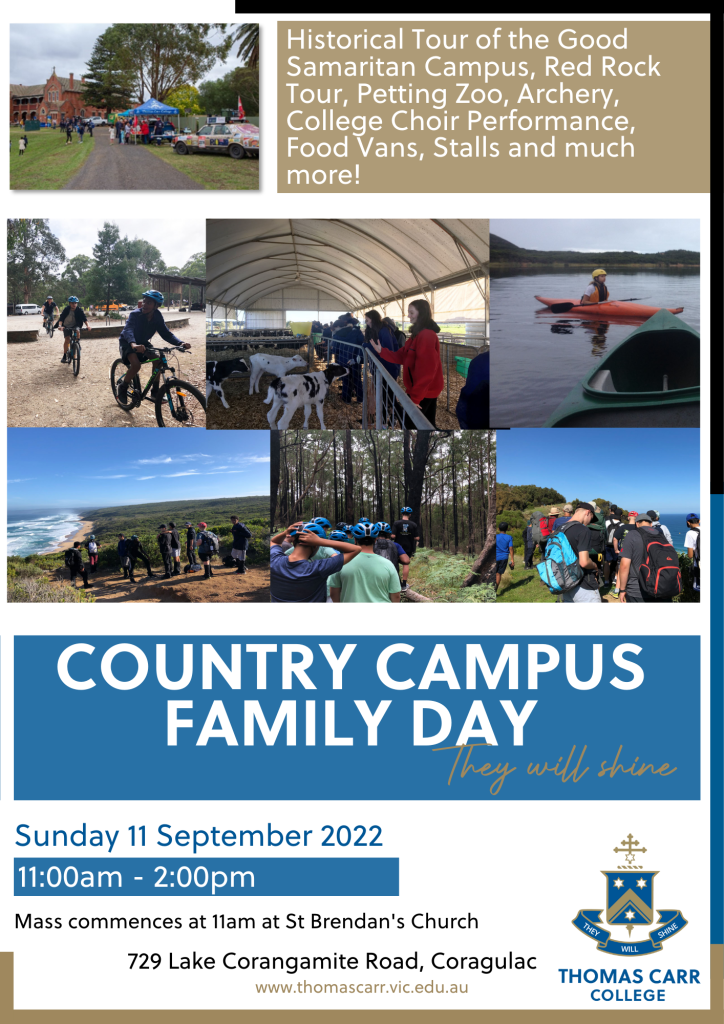 A hired bus will be arranged by Thomas Carr College for the current College families only, who are attending the event or families can choose to drive and make their own way to Coragulac. The families who would like to travel on the hired bus provided will meet at the College parking bay on Sunday 11 September 2022, at 8.45 am to depart promptly at 9:00 am. The bus will depart from the Good Samaritan Campus at 2.00 pm and is expected to return to the College at Tarneit around 4.00 pm, depending on traffic conditions.
To book the bus (essential), please do so via the Operoo notice provided, or contact Student Reception on (03) 8734 2444.
As part of this activity, family members will have to bring any required medication including their Asthma pump and/or Epipen. Following any COVID regulation at the time is required – wearing a face mask on the bus, and not attending the event if you have any flu-like symptoms.
If you would like to attend this wonderful occasion, please RSVP by no later than Friday 12 August 2022. For catering and bus hiring purposes, it is important that you provide the information required regarding the number of family members attending and whether you are travelling with your own vehicle or whether you will be travelling on the hired bus.
If you have any queries, please do not hesitate to contact us on 8734 2444 during College hours.