Latest News
From the 2023 College Captains
02 December 2022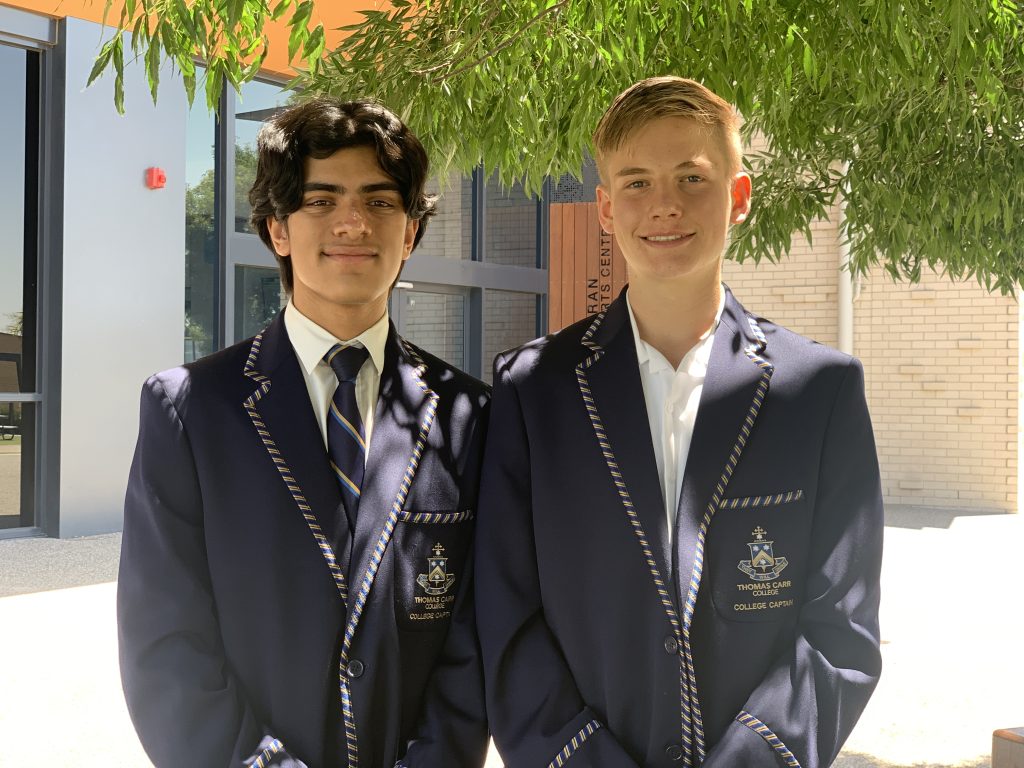 Raul Sapkota – College Captain 2023
Good afternoon to all staff and students, my name is Raul Sapkota, and I am one of your College Captains for 2023. Firstly, I would like to say a big congratulations to you all for making it through another year, it has been a difficult one despite being the first in what feels like forever where there were no lockdowns. Every single one of you has managed to endure the pain of SACs, assessments and classwork and have reached the final day of the 2022 academic year.
Now, before we all go on summer holidays and enjoy our well-deserved break, I would like to take this opportunity to ask you all to reflect on this year. What went well? Perhaps you passed all your assessments or completed all classwork to a high standard. However, we also have to look at the flaws, what didn't go so well? Maybe you didn't revise enough for your SACs. As you are reflecting, I would like to provide everyone with some words of affirmation that will ensure 2023 will start off smoothly for all of us.
To start things off, we can only feel confident in ourselves when we are feeling our best. Think about it, it's pretty hard to show people that we are happy if deep down we are feeling miserable. To prevent this, I want everyone here to be better people than they were yesterday. Whether this be saying something nice to someone who you haven't talked to before or just offering to help someone with anything. Partaking in these sorts of tasks will ensure you are positive and that you are also sharing that positivity with others around you.
A big part of life is the ability to improve from criticism. Obviously, hearing other people talk about our flaws hurts, but we can never grow as human beings if we do not accept these flaws. I would argue that people who know what their flaws are and choose to improve upon these end up becoming more successful than people who shy away from them in the future.
Finally, ensure that you are always giving yourself positive self-talk only. Negative self-talk damages us as although we may tell ourselves that we're only joking, our brain processes it as actual negativity which can be detrimental to our self-esteem and self-confidence. There is an African proverb that reads: "When there is no enemy within, the enemy outside can do us no harm" which basically states that if we are not speaking negatively of ourselves, then any negativity from other people will not be able to hurt us.
Once again, congratulations on completing another school year of your life, stay safe and have fun during the holidays and I look forward to seeing each and every one of you back here in 2023 for another amazing year. Thank you!
Charlie Hickey – College Captain 2023
Good afternoon all staff and students of Thomas Carr College.
Just like Raul had said, well done everyone! This was our very first year of school without the lockdowns, Online Classes, and major interruptions. We have overcome a very challenging few years, but just as Mr. Holmes said on Tuesday during the Commissioning Assembly, 'it is time to move on'.
Thomas Carr College, how can we expect to move on and prepare for the possibilities that await us, if we are not turning the page and entering a new chapter. I am excited for 2023 and what success we are all going to have throughout the year, we must take ownership of ourselves, and manifest that we will achieve great things in 2023.
Reflection is key to creating the changes that are needed, during your several weeks of holiday, put aside at most 5 minutes to honestly reflect upon your year, whether it was great, alright or not the best, nobody in this room would have reached perfection. To improve, we must better our former selves.
Do not put yourself down and compare your ability to the person on your left, or your right. You need to start competing against yourself. Go into next year determined, to be more organised than your former self, more disciplined than your former self and more efficient than your former self.
Thomas Carr, we must look to do everything to the best of our ability, once you implement this mindset to not just your schooling, but everything you do, you will become a success.
I also have a quote to share, "Success does not come to you, you go to it". Thomas Carr, your only barrier to success, is yourself.
Let us all rest up, enjoy our holidays, recharge our batteries and gear up, because we are preparing for the greatest year of our lives, Thank you.