Latest News
From Principal
25 November 2022
It is important to finish the academic year strong, just like we started the year! Whilst our reserves may be running low it is vital to remain focused and finish the year well. Our credibility in the eyes of others is based on results. Not just academic results but our ability to complete our projects, meet deadlines, follow tasks through to completion, and live the Catholic values of the College.
Our VCE examinations were conducted in a calm and supporting environment. The staff at Student Reception ensured all communications and regulations from VCAA were carried out with a minimum of fuss. Our Year 7 through to Year 11 students have likewise undertaken their examinations, which provided both a challenge and a good indicator of their effort and skill as they meet the challenges of schooling.
We will be holding a Commissioning Ceremony for our Senior Students during the Headstart Program. This Commissioning is symbolic and meaningful as we impress upon these Senior Students that they have in fact commenced their journey into the important final years of their schooling. In practical terms, this requires them to commence their study for 2023 from the start of the Headstart Program.
I congratulate our student recipients of the 2022 SACCSS, John Landy Sportsperson Awards – Rhiana Gibson and Bradley Ganley. Well done for this prestigious recognition.
John Landy Sportsperson Awards
Rhiana Gibson
Rhiana approaches all that she does with much enthusiasm and pride. She has an abundance of enthusiasm, cheering on all athletes, not just her own. Through her appointment as joint Team Captain in all three major SACCSS Carnivals, Rhiana motivated, supported and encouraged her team to strive to do and be their best. She always shows great pride and sportspersonship in all that she does, which is inspiring to all around her.
Brad Ganley
Brad has always gone out of his way to assist with our Swimming, Cross Country and Athletics Training sessions at the College over the last 6 years, mentoring and supporting our young athletes. He led brilliantly by example at this year's SACCSS Swimming, Athletics and Cross Country Carnivals as our joint Team Captain, cheering on and giving advice to our students. Brad is a quiet achiever who has represented our College exceptionally well in all that he has contributed to the College.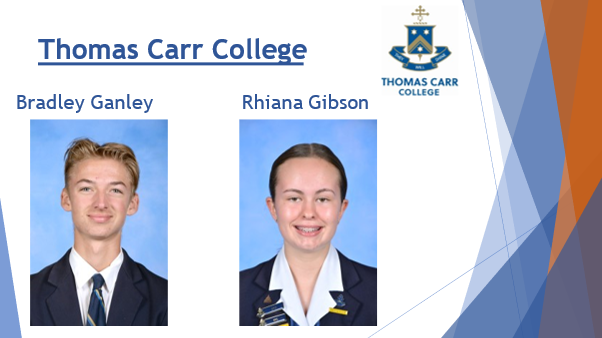 Staffing for 2023 is challenging in the current environment with significant teacher shortages across Australia. The College will be looking at a variety of timetable structures to address any potential shortfall of teachers in Term One 2023.
Our students and families will receive a copy of our 2022 College Yearbook next week, representing a wonderful recollection of all the moments that made this year memorable in a positive way.
I thank our students, families and staff for your efforts in bringing 2022 to a meaningful and focused conclusion in this, the last term of the academic year, our Advent Term.
– Craig Holmes: Principal