Latest News
From Director of Faith and Mission
28 October 2022
Last Wednesday 19 October 2022, we commemorated the completion of 13 years of education for our Year 12 students with their Graduation Mass at St James the Apostle.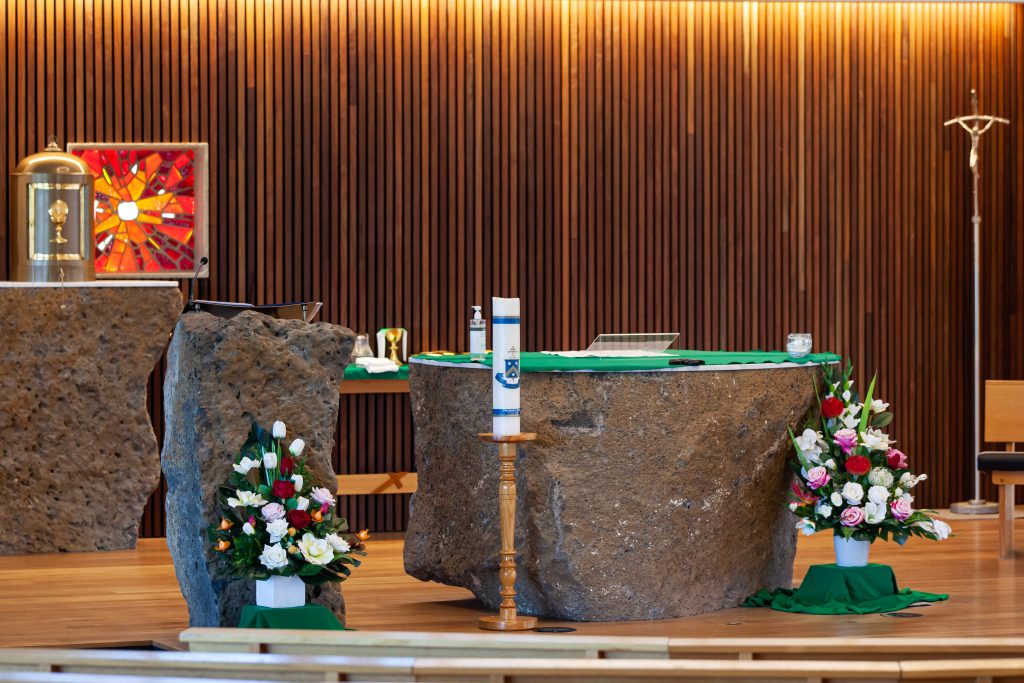 We were blessed with beautiful weather on the evening, which added to the festivities. Our celebrant, Fr. Silvio Bezzina MSSP, was assisted by altar servers, Alyssa Gaba, Tamiah Wakefield, Mary Nguot and Rachael Lodu. The Year 12 Choir, led by Mr Mathew Morse, chose hymns for the Mass that represented their time at Thomas Carr College.
Our graduating Year 12 students were introduced to their families by the 2023 College leaders. The 2022 College Captains and House Captains proudly ushered in the symbols for the Class of 2022 followed by the procession of Year 12 graduating students.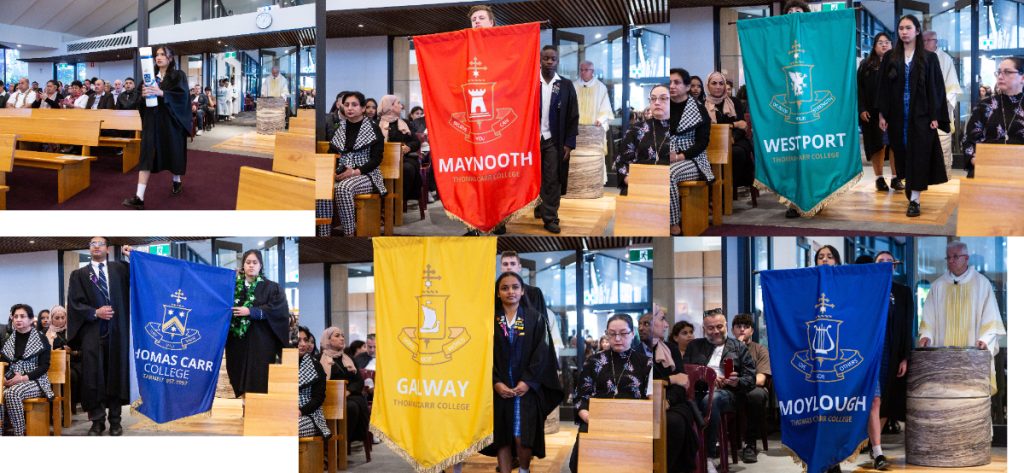 Our 2022 student leaders, Thea Villegas, Rhiana Gibson, Georgia Spratling, Massimo Loverso, Brad Ganley, Marielle Del Rosario, Mrinal Garg and Erinne Bautista enriched our celebration as readers, and in other ministries during the Mass.
Following the Mass was the Graduation Ceremony where graduating students were presented to Thomas Carr College Principal Mr Craig Holmes and their families. We thank Fr Silvio, College Leadership, our Director of Students Ms Bonde, House Leaders; Mrs Marett, Mr Bassi, Ms Parcesepe and Mr Nicholls together with the students, PaLM teachers and families for making this such a special celebration.
The recessional hymn chosen by our Year 12 choir 'The power of your love', was a prayer that we too pray for our Year 12 class of 2022.
'Hold me close, let your love surround me. Bring me near, draw me to Your side. And as I wait I'll rise up like an eagle and I will soar with You, Your Spirit leads me on, in the pow'r of Your love.'
St James the Apostle Fete Saturday 5 November – Call for helpers
If you are able to help with set up, helping on a stall, parking or pack up please contact the St James the Apostle parish office.
If you have never been part of a Fete before now is your chance to join in the fun. Please see attached flyer.
Fr Jude and the Fete Committee thank you for your support.
Flood assistance request
For those able to financially assist those most impacted by the current Australian flood crisis, donations can be made to the St Vincent de Paul society links below.
• Donate over the phone using a credit card by calling 13 18 12.
• Donors can allocate donations to a specific conference by giving the name of the conference over the phone.
• Receipts will be issued by our SVDPV Fundraising Team.
CASH
• Bank directly into the St Vincent de Paul Society bank account:
St Vincent de Paul Society Victoria Gift Fund
BSB: 063 000
Account No: 106 07556
Reference: FLOOD22 + your conference ID
• For a receipt, please send an email to the Fundraising Team at donation@svdp-vic.org.au advising of deposit date and amount, donor name, phone and address details.
ONLINE and SOCIAL MEDIA
• Social media campaigns across Facebook, Instagram and LinkedIn.
• Vinnies website: https://donate.vinnies.org.au/appeals-vic/vinnies-vic-flood-appeal-2022
– Elizabeth Holligan: Director of Faith and Mission.