Latest News
From Deputy Principal – Student Engagement and Wellbeing
21 February 2023
A warm welcome to our new students, staff, and families at Thomas Carr College, and welcome back to our pre-loved students, staff, and families!
I love the start of the year – it is brimming with possibility and optimism. We start the new year looking forward, dreaming, planning, and feeling refreshed. It is this optimism and positivity that fuels us in the days, weeks, and months ahead. Our College continues to dream big and continues to grow towards being the rich, diverse, beautiful community we are called to be.
This year we have been blessed with a number of new people joining our community to support the wellbeing and engagement of our young people. These new roles will continue to enhance the learning journey of our young people. Our Wellbeing Team, our Counselling Team, our Youth Liaison Officer, our Student Agency Leader, and our Learning Diversity Team all come together to bring positivity, optimism, and support to the social, emotional, and mental wellbeing of our young people.
Every staff member has been trained in the Berry Street Education Model, a trauma-informed pedagogical approach implemented in our classroom practice, our policies, our procedures, our everyday interactions with our young people. Along with this, we are working to create stronger partnerships with our families so that every young person in our care is known, cared for, and loved in their wholeness. This is the foundation we have to ensure every young person in our care will flourish and grow as learners and as human beings.
Together we can achieve anything. All of us are heavily invested in our young people and they themselves are growing into who they are. We continue to develop within them the attributes and the strengths that will give them greater agency in their learning and in their life. We are all Team Thomas Carr – a community that collaborates, communicates, cares for every single young person here at our College, giving them all they need to become their authentic selves. It is this beautiful truth that shapes us – that we are made to live in relationship with our God, with ourselves, with our world, and with each other. And that together we continue God's creative process.
Together we can achieve anything.
2023 College Expectations & Uniform
All families have been sent with two important documents: Information for Parents & Students Booklet 2023 and the College Uniform Guide 2023. Wearing the Thomas Carr College uniform with pride and following all school rules means that we can all focus on the core-business of learning & teaching, without distractions. I thank parents and caregivers for their support. Our partnership is crucial and creates an excellent and supportive learning environment for all students where they can thrive.
It is important to read both documents carefully to avoid any confusion with regard to College policies and procedures. Please contact the Pastoral and Learning Mentors if you have any questions.
Student Diary
A hard copy of the Student Diary had been distributed to all students from Years 7-12 to assist with organisation and study skills. I encourage parents/caregivers and students to utilise this valuable resource daily and ensure that homework tasks are recorded.
Welcome to 2023 Parent Information Nights
Thank you to the parents/caregivers for actively engaging in our important partnership. I would like to thank the Year Level Leaders, House Leaders, the Heads of Learning and Teaching, and the Pastoral and Learning Mentors (PaLMs) for organising and running the sessions. It was a wonderful opportunity for us to meet as partners in your child's learning.
Student Leaders
The Student Representative Council members, Peer Support Leaders and College Ambassadors will be presented to the College and receive their badges at a special ceremony. The process for electing them has begun. The annual Student Leadership Day for all Captains and the Student Representative Council 2023 will be held on Thursday 23 February. They will be mentored by our new Student Agency Leader, Mr. Nathan Williams.
| | | |
| --- | --- | --- |
| College Captains: | Vice Captains: | Middle School Captains: |
| Charlie Hickey | Divina Angeline Abiog | Faith Mastos |
| Raul Sapkota | Oliver Pond | Daejah Lessekuta |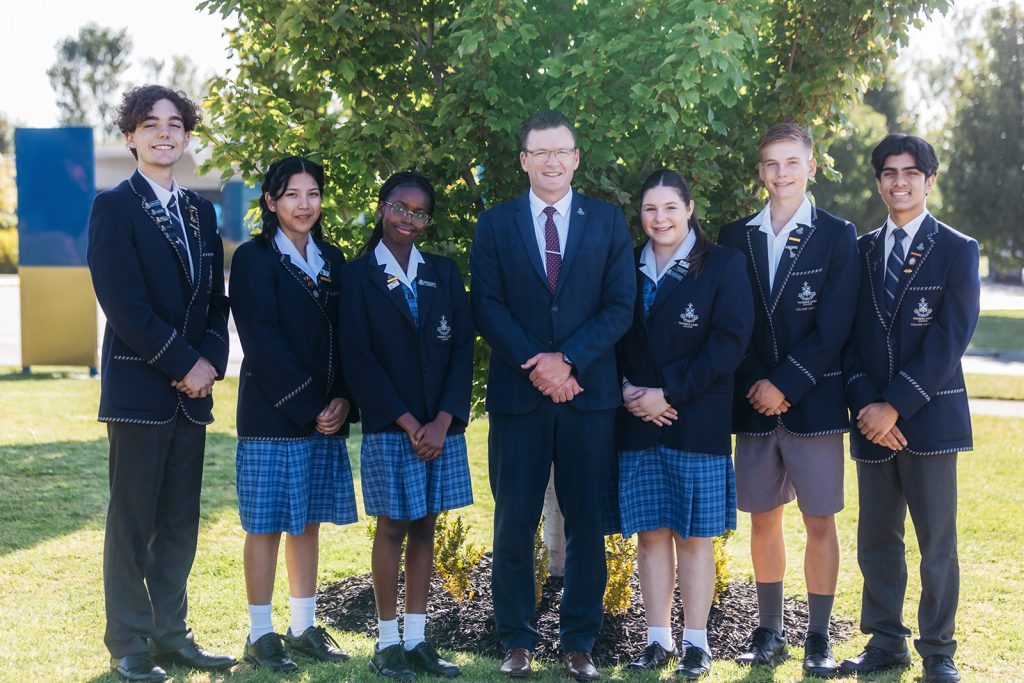 House Captains and Vice Captains
GALWAY – Mrs Lauren Marett
Senior House Captains:
Middle School Captains:
Debora Belay
Amarin Ashley
Keira Eckley
Rihanna Cham
MOYLOUGH – Mr Tony Muller
Senior House Captains:
Middle School Captains:
Zoe Foronda
Grace Choate
Pranay Kalvala
Jack Balchan
WESTPORT – Ms Sarah Parcesepe
Senior House Captains:
Middle School Captains:
Fiona Gade
Bia Sarah Binu
Thomas Jye Kiedrzynski
Lucas Fisher
MAYNOOTH – Ms Lilian Micheni
Senior House Captains:
Middle School Captains:
Caitlin Dennis
Achok Beyong
Janaiah Mider
Sean Tomelty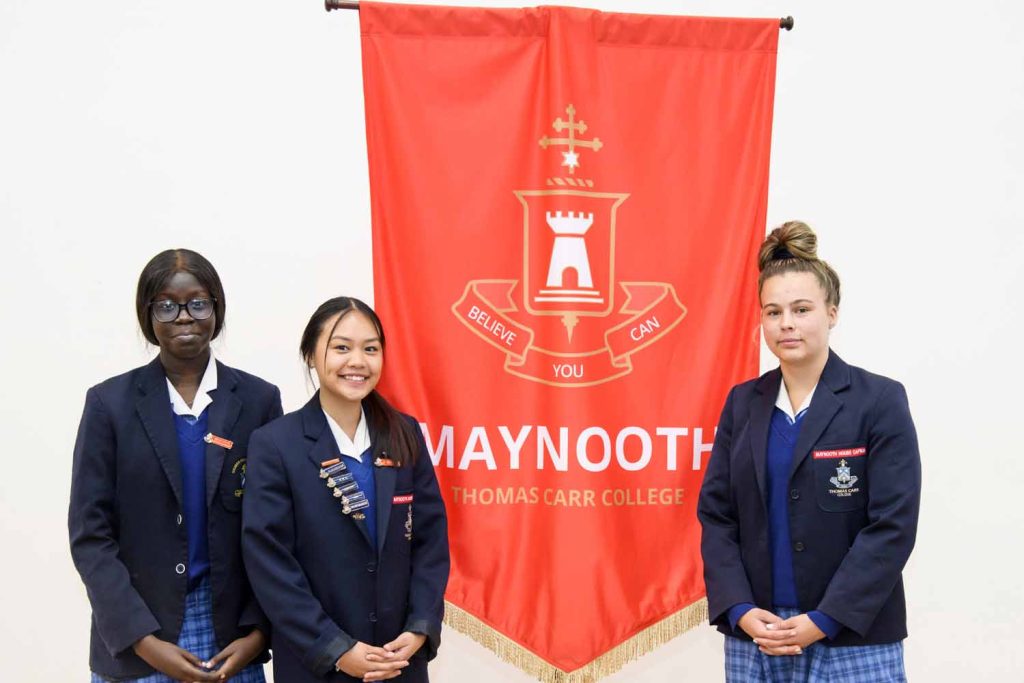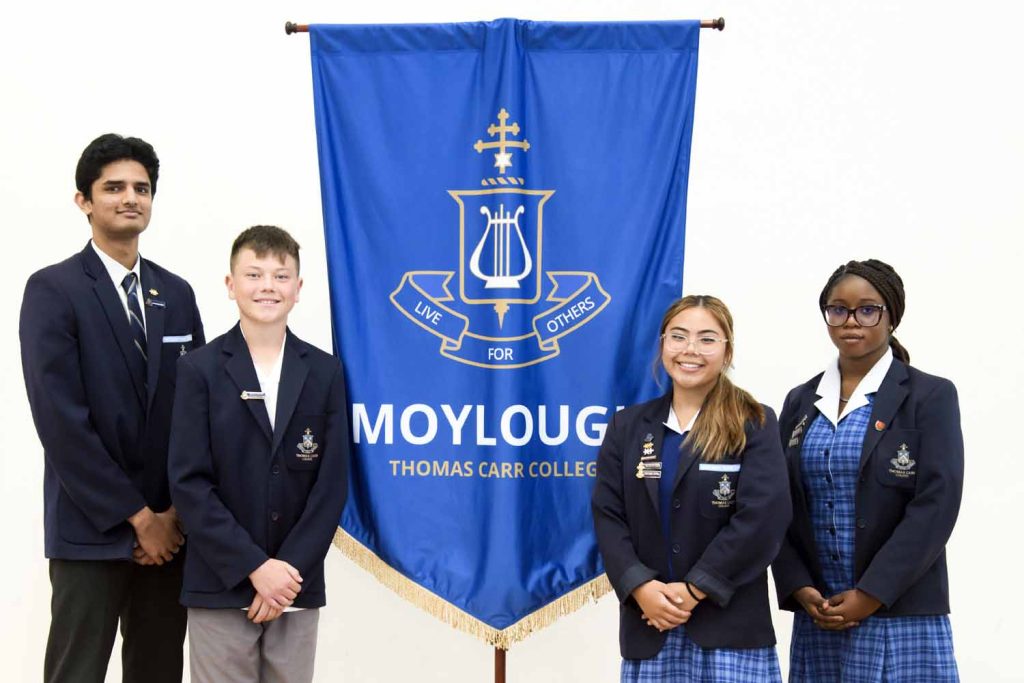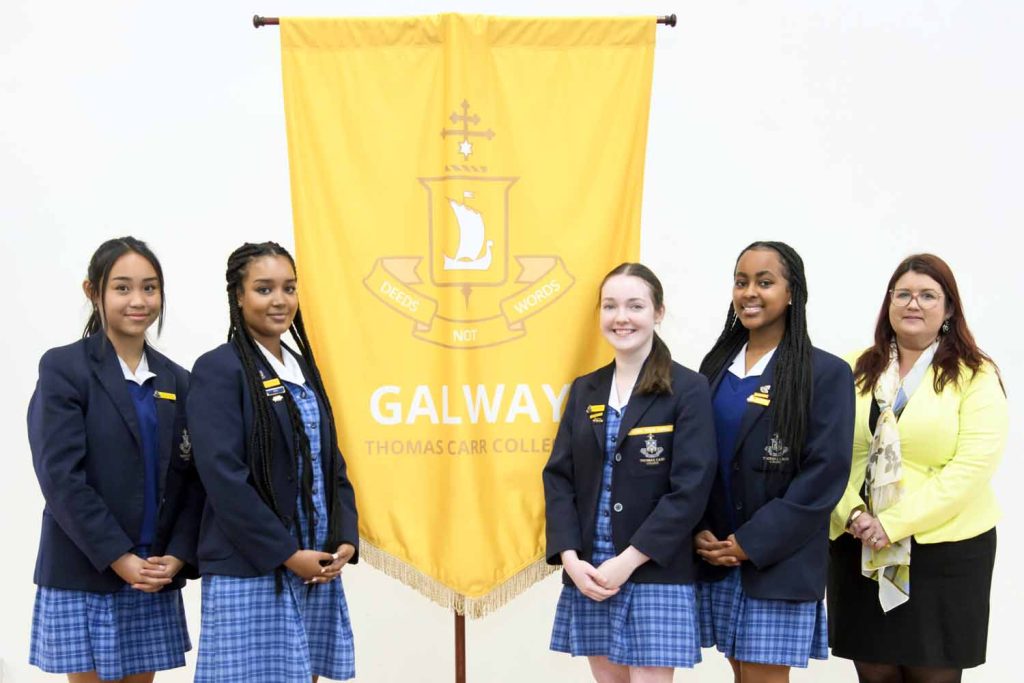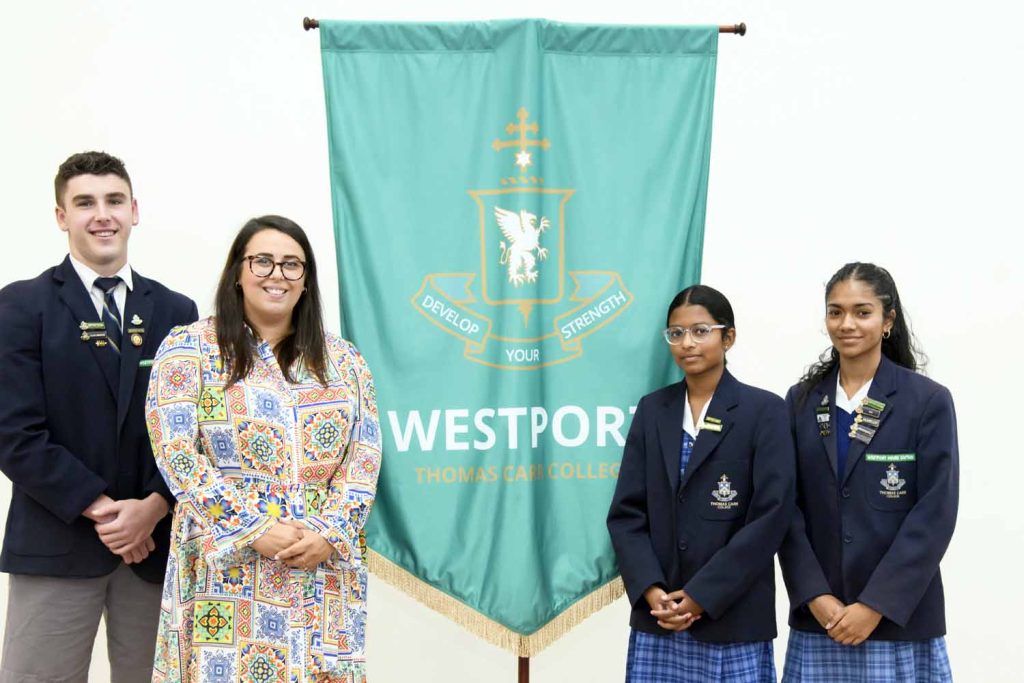 | | | |
| --- | --- | --- |
| Liturgy Captains | Social Justice | Music Captains |
| Captain: Alyssa Gaba | Captain: Evelyn Jacob | Captain: Claire Glowacki |
| | | Captain: Mackline Lodu |
Nationally Consistent Collection of Data on School Students with Disability (NCCD)
Every year, all schools in Australia participate in the Nationally Consistent Collection of Data on School Students with Disability (NCCD). The NCCD process requires schools to identify information already available in the school about supports provided to students with disability. These relate to legislative requirements under the Disability Discrimination Act 1992 and the Disability Standards for Education 2005, in line with the NCCD guidelines (2019). The NCCD will have no direct impact on your child and your child will not be involved in any testing process. The school will provide data to the Australian Government in such a way that no individual student will be able to be identified – the privacy and confidentiality of all students is ensured. Click here for more information.
If you have any questions about the NCCD, please contact Tulay Et, Learning Diversity Leader.
Ivanka Spiteri
Deputy Principal – Student Engagement and Wellbeing